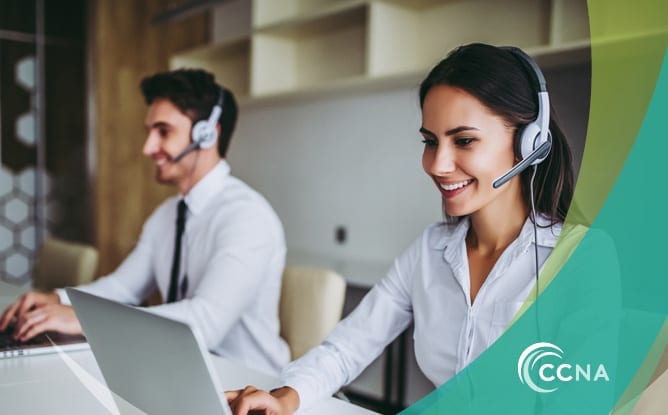 Customer contact centres have been around for several decades helping customers solve basic concerns like password resets and login issues. They are responsible not only for helping customers solve problems but also acting as a customer service arm for businesses where they assist clients with account details and other similar functions.
Historically, organisations had to hire and retain large teams of employees to enable these services within the business. In many cases the churn within these teams was quite high. This churn happens due to many factors, but salary and the monotonous and mundane nature of the work played a critical role.
Transforming your contact centre team
Today, many organisations opt for self-service through portals and other similar tools. AI tools have become prevalent and despite doomsayer prophecies about how they would herald the death knell of the contact centre, the truth is quite different. 
Technologies like these have helped remove some of the repetitive and mind-numbing jobs that were a feature of contact centres in the past. This has benefited contact centre employees greatly. By taking away the basic and mundane tasks which negatively impacted morale, employees have had an opportunity to transition to more complex services and service requests. This has helped reduce churn as employees can obtain additional training. However, it is not all positive. While the changes have benefited the agent, there has been an impact on the customer due to these changes. 
Agents today need more resources in their toolbelt and simply knowing the product is often not enough. Agents need troubleshooting and problem-solving skills along with exceptional communication. Successful agents need to be technically proficient while at the same time demonstrating high degrees of empathy. 
We have talked about technology a lot, but technology is only part of the solution within the modern contact centre. Companies also need to focus on the humans doing the work. Regardless of the amount of money spent on the tech side of the equation, attention must also be paid to the people side. 
To be successful in the future, you need to focus on who you are hiring now. You also need to pay attention to how you are training and onboarding them. 
Omnivorous consumption
Technology is a key factor in ensuring contact centre efficiency. The volume of calls, emails, messages, chats and text is increasing with consumers today used to multiple channels available to them when dealing with businesses. 
Newer technologies such as video chat and personal digital assistants are becoming mainstream. Companies that want to use these tools effectively within the contact centre, need to start planning and testing their usability now. Contact centres already use tools like artificial intelligence (AI) within their teams, including chatbots. These bots help make teams more productive and efficient by offloading simple tasks, speeding up resolution and improving customer satisfaction. Using bots, contact centre agents can focus on more complex tasks that require human intervention. 
Voice calls are still a major driver of volume within the contact centre. However, as bots increase in skills and intelligence that is going to change. More intelligent chat systems with improved data intelligence will gradually take on even more issues from agents. Over time this will further decrease dependence on voice and live chat.
Minority Report (for good!)
Contact centres have historically been reactive in nature. They have depended on customers calling in to either report a problem or review account details. However, that situation is changing. Marketers have already come up with a way of determining which customers are most likely to churn and have built proactive, personalised campaigns to help minimise churn. This type of thinking will transition to the contact centre also. 
In the future ahead of us, new technologies will help bring the capabilities of the 'Minority Report' to life. Contact centres will move from a reactive role to one that is more proactive and able to reach out to clients to help them solve problems. 
Technologies like AI and ML will continue to make positive impacts in the contact centre, helping improve value for the business. Customer benefits will also accrue with reduced wait times and improved first call resolution helping drive an overall improvement in customer experience. 
Expect Effortless CX
Customers today expect more. With access to a global environment, consumers today have choices that did not exist for earlier generations. The way firms have worked historically will simply not stand the test of time and if companies do not adjust to the new normal, they will not survive.
Leaders need to embrace the changes that are in front of them. As customer expectations continue to increase, leaders need to build agile business processes that can evolve to meet these demands.
Today's customers want to do business with organisations that share their interests and passions. They are looking for firms with similar ideals and goals. Companies willing to make a stand on a specific initiative can reap significant dividends in new business and loyalty.
This past year has been one that has brought with it many changes for companies and consumers alike. One thing that it has taught is the importance of connections. Companies need to find new ways of reaching their customers to form new bonds. With customer experience becoming ever more important and critical, effortless customer experience will become a requirement.
Create the contact centre of the future with CCNA
CCNA has robust experience with contact centre AI, chatbots and digital tools your agents need. We can help you implement AI and ML to manage customer data, social media, and take the burden from your human staff.
CCNA takes a vendor-agnostic approach to technology, innovation, and design to help you build the contact centre of the future. Visit our contact centre services page to learn more.