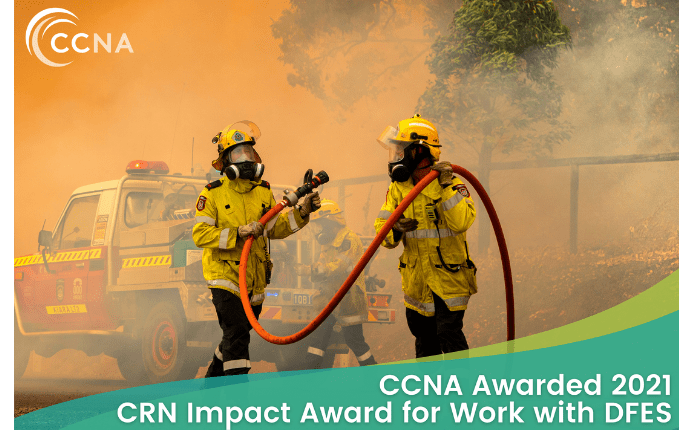 CCNA was named the winner of the 2021 CRN Impact Award for Workforce Empowerment for our work with the Department of Fire and Emergency Services (DFES) in Western Australia. The DFES looked to CCNA to help save lives by replacing an outdated 000 phone system without interrupting their current service as, given the nature of emergency calls, it was crucial that the system remained in operation at all times.  
The Challenge
The DFES' phone system lacked flexibility and scalability, which meant the system wasn't built to grow with the changing needs of DFES and the WA community. The DFES wanted to invest in a system that would serve them for years to come.
It was also critical that the new phone system have a 99.999% uptime requirement. This is because, in an emergency situation, being able to get through to an operator is essential to receiving a timely emergency response.  
The impact on the mental health of 000 operators was also a consideration, with DFES staff reporting significant stress. The challenges of meeting demand during natural disasters and the threat of the upcoming fire season had taken its toll. For this reason, CCNA needed to implement a better system within the mere 8 weeks before the fire season began.  
The Solution

 
Partnering with world-class technology vendors, CCNA worked with DFES to implement an intelligent 000 phone system that can assess and manage 000 queues, provide real-time data to guide decision making, notify relevant parties, and help avoid human error.  
CCNA implemented: 

 
Avaya – The Avaya OneCloud Subscription model delivered the 99.999% contact centre solution for the 000 calls delivered through Telstra and Vocus via SIP Connectivity. Operator light system for visual on a call notification. Avaya will also provide the digital channels in the future as part of the next phase of the Next generation Network 000 roadmap.  
 CCNA introduced full skills-based routing, with intelligence in the system to ensure calls are answered correctly and within pre-defined timelines (remember the purpose of the 000 phone system and importance of answering correctly and on time). The solution provides customised real-time displays and alerting to ensure that everyone is aware of what is happening in the Comcen at all times. CCNA also developed a customer SMS application that is used to get notifications out to resources as quickly as possible, avoiding miscommunication via phone or radio. 
Nectar – Management, solution reporting and monitoring. 

 

HPE – HPE delivered the highly redundant server and storage arrays. The HPE Nimble storage arrays were chosen for their ability to effectively manage large amounts of data (call recordings) over a long period of time. 

 

F5 – F5 provided load balancing services to critical applications deployed across both data centres.

 

Liquid Voice – Liquid Voice improved all voice recordings (phone and radio), transcription and analytics. This helped determine why calls come in but also look for sentiment in customers and agents. 

 

eMite – eMite provided real-time reporting aspects. Reports are customised to meet the individual requirements of different staff.
Unified Communications as a Service with CCNA
The Results
The DFES' new phone system can handle ten times the volume of calls that the old system could (and can scale up when needed in the future). It demonstrated that it can meet demand throughout numerous natural disasters of 2020.  
In February of 2020, Western Australia experienced the Red Gulley fire in addition to the Wooraloo fire. Whilst 108 houses were unfortunately destroyed in these fires, no lives were lost. DFES credits CCNA's new phone system implementation as "certainly contributing" to this successful emergency management. 
The mental health and wellbeing of call staff had also been enhanced. New, intelligent technology meant that they had the right information available to them in real time, assisting them in decision making during incidents. 
Despite what would typically be a 6-month turnaround, the project with DFES was completed within an 8-week window to get ahead of the incoming fire season, and was a resounding success.  
Why CCNA was right for the job

 
Our organisation prides itself on its thought leadership, which has positioned us as an industry-leading network integrator. With a strong passion for innovation and a solution-based outlook, we have played a critical role in the Australian market by helping customers leverage technology in new ways. 
Our dedicated staff were paired with the task to successfully architect, implement and support the DFES with nearly impossible time constraints (and the stress of the pandemic). However, this did not deter us from delivering on our goals. 
To best collaborate and elaborate on new processes and mechanisms, CCNA's staff were onsite with Chief Security Officers and senior management. Through this, we achieved a better understanding of the range of critical calls, events and scenarios that the communications centre may experience.  
With human lives at stake, we at CCNA are extremely proud of the delivery and implementation of our project with DFES.   
If you would like to learn more about CCNA's unique solutions for your organisation, please contact the CCNA team on [email protected] or visit the CCNA website at https://www.ccna.com.au.