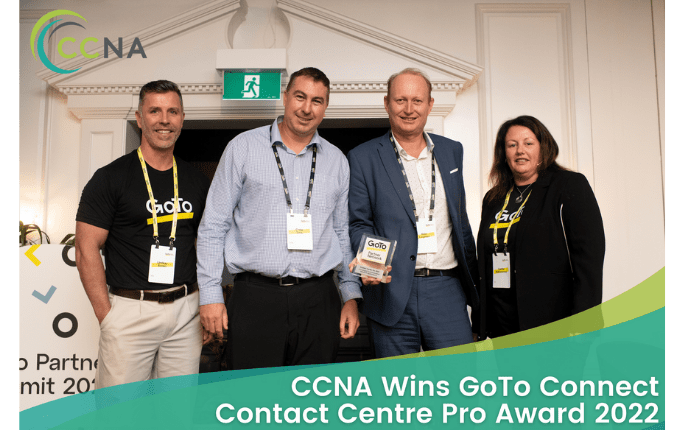 CCNA is proud to announce that we have been recognised as one of GoTo's (formerly LogMeIn) top performing implementation partners.
CCNA delivers leading technology solutions and services within the Enterprise, Government, and Carrier market place. Our goal is always to partner businesses with unified communication solutions that they can rely on to deliver outstanding internal and customer communications, and grow alongside them.
CCNA has a longstanding relationship with GoTo, and have implemented their products in dozens of Australian businesses, in addition to using them internally. Our partnership with GoTo has enabled us to be more responsive to customer requirements, with their unified communications solution, GoToConnect, becoming a favourite among our customers. With an appealing and accessible user interface and excellent user protection through Identity and Access Management tools, GoToConnect is ideally suited to businesses concerned about their cybersecurity.
After its rebrand from LogMeIn in February, GoTo is increasingly focused on its portfolio of cloud-based communication tools for remote workers.
"Today's working environment has changed the way we sell and serve our customers. Our partners have played a critical role in this evolution. We look forward to continuing to build these relationships as we evolve our partner program to better serve our growing ecosystem of partners around the globe." Said Asia-Pacific channel director Yvette McEnearney.
As always, CCNA is proud of our longstanding and evolving partnership with GoTo, and is touched to be recognised for our part in implementing their contact centre solutions.