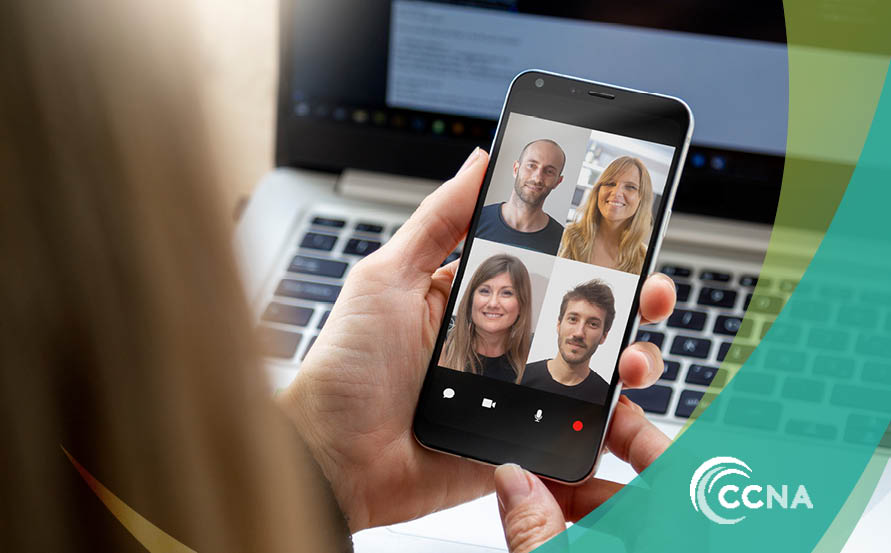 Imagine a workforce, distributed or not, that communicates and collaborates seamlessly. Unified Communications as a Service (UCaaS) is a single solution that brings together fragmented communication methods such as telephony, video conferencing and file sharing.
This blog takes a deep dive into what makes Unified Communications as a Service stand out and why you might consider it for your business.
How is UCaaS different to Cloud Communications? 
Cloud communication platforms consist of separate siloed applications that host team messaging, email, cloud telephony, and video conferencing. These collaboration applications are accessible through any connected device but are usually independent of each other. Unified Communications as a Service packages all these tools into a single cloud-based platform. They also include popular features like presence status, file sharing, history, groups, and integrations with third-party apps.
UCaaS supports mobility and inter-office collaboration. One of the main advantages of adopting a UCaaS solution is that users can access essential communications without switching between applications or interrupting tasks to toggle programs. This makes communication more convenient, seamless and encourages more profound levels of teamwork and productivity.
Today, UCaaS systems offer not only high-quality voice and video calls but recording features and AI implementation. UCaaS can also be integrated with contact centres to assist with customer communication. The same shared platform incorporates features like customer authentication, AI-powered voice analytics, and split recording. For example, this integration allows contact centres to collaborate directly with internal departments to solve queries more quickly and effectively.
UCaaS requires very little hardware and IT management. The initial infrastructure setup is done by a provider, while the IT team needs only to update and support a single cloud-based application. This results in overall greater functionality and efficiency. 
Unified Communications as a Service for remote workers 
Organisations have been increasingly adopting cloud-based collaboration solutions to find quick solutions for remote workers. Different applications initially covered various necessities. For example, a team would use one tool for messaging, another for video conferencing, and a separate one for telephone communication. This resulted in employees switching between tools and programs, usually losing focus and taking unnecessary steps to simplify communication.
Mobility can be an essential part of a business strategy. By combining services like calls, messages, and video, UCaaS allows users to work efficiently from any device and any location. This is possible thanks to the cloud delivery model that hosts files and interactions in a single online location. In the cloud, users can make edits in real-time and simultaneously, hosting conversations and launching presentations from desktop computers, tablets or smartphones. 
UCaaS also helps businesses manage and develop a messaging strategy to provide an omnichannel service experience to customers. Any device integrated into the platform can provide instant messages, transcriptions, voicemail, and media chat. Contact centre customer calls can be routed based on key performance indicators, allowing agents to transfer them to other team members seamlessly. 
With a UCaaS solution, an employee can send messages, work on files and make video calls from the same tool. This is particularly important as organisations consider keeping their employees working remotely or flexible workplace options, and wish to help them achieve a good work/life balance. Remote work can be cost-effective while also promoting productivity. When aided with the correct tools to streamline communication, it doesn't matter where in the world someone is; information flows freely in every direction. 
Benefits of Unified Communications as a Service
UCaaS platforms offer several benefits to both companies and workers. In addition to increased productivity and economic value, they can improve reliability, ease of use, flexibility, and security.
Working on the cloud offers economic benefits. Cloud setups do not require space for hardware and do not incur upfront expenses. Operating costs are lower because a company does not need to hire additional IT support or worry about costly hardware upgrades or repairs. By moving the upfront expenditures to a monthly operational cost, UCaaS can also simplify a company's accounting. All technology is always kept up to date because any required update is executed automatically across the premises. 
Among the technologies that UCaaS providers incorporate are data encryption, cloud VoIP, on-premise IP-PBX systems, file protection, and SSO (single sign-on). An integrated voice and data network requires robust, hardened infrastructure housing. These protections (which include physical shielding, redundant power, and disaster recovery procedures) are covered by the UCaaS vendor, taking the pressure off businesses and assuring all practices will follow government and privacy compliance regulations. 
Another essential advantage of UCaaS is that it can scale globally, supporting both current and future needs. For example, adding phones and access for new employees becomes easier as admins can also handle configurations from a central location. A contact centre can rapidly deploy omnichannel cloud communication solutions without any downtime.
In terms of advantages to the user, UCaaS allows employees to access their phone, video conferencing and file-sharing services through any device from any location. By centralising these services into a single platform, users do not need to spend time toggling between different applications, and customers can be re-routed easily. The workflow is less disrupted, and there is an improvement in productivity and user experience. 
Incorporating UCaaS can benefit both small, medium-sized businesses and large enterprises. By combining it with a contact centre, companies can monitor and manage all communications in the same space.
Unified Communications as a Service with CCNA
We believe in taking a people-first approach when implementing Unified Communications. We work with you to target your business needs and select the right solution from best-of-breed Unified Communications vendors. If you would like to learn more about how we can connect your business, visit our Unified Communications Services page.